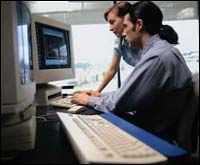 If there's one thing we've learned over the years, it's that no amount of technology can replace the human touch. That's why we hire only the most qualified individuals to serve on our team. We look for people that share our philosophy that your business is our business.
Our team at Randburg is small but they are only the tip of the iceburg. At the Fourways shop we have another 10 people who complete our staff compliment. So any job that requires more manpower or special equipment is sent to Fourways printed, finished and returned to Randburg for you to collect.
At the Fourways shop we have 10  staff members and the equipment to handle larger print runs, banner, posters, sticker and much more.
The two shops are 8 km apart so we can deliver or collect jobs easy. Derrick goes past the Randburg shop every morning or evening.